Noir d'Olive Virgin Olive Oil
This oil revisits the age-old traditions of Provence. The olives are hand-picked only when fully ripe. They are then stored in containers without oxygen for three days to ignite the fermentation process, recreating the taste of preserved black olives.
Olive Varietal:
Salonenque, Aglandau, Grossane and Verdale
; Oleic Acidity:
<1.5%
Flavor Profile

The oil has a sweet bouquet and mild flavor with black olive tapenade and truffle notes on the palate.

Recommended Uses

Serve this oil at room temperature in garlic-seasoned salads, or use it for making mayonnaise and for drizzling on toasted baguettes, mushrooms and mashed potatoes.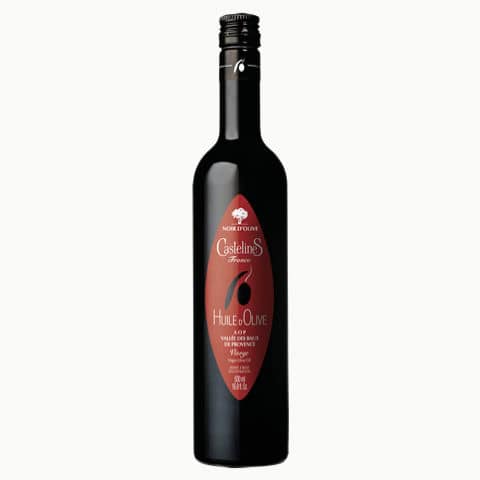 | Item No. | Size | Pack | Weight | UPC |
| --- | --- | --- | --- | --- |
| CA0115 | 500mL Bottle | 6/case | 14 lb | 838356001309 |
| CA0200 | 3L Box | 4/case | 30 lb | 838356001323 |
2018, Silver, Concours General Agricole, Paris
2017, Gold, Concours General Agricole, Paris
2017, Silver, National Competition of Olive Oils with Origin, Nyons
2016, Gold, Concours General Agricole, Paris
2011, Gold, Concours National des Huiles dÕolive en Appellation dÕOrigine, Nyons
2010, Gold, Concours Provence-Alpes-C™te dÕAzur, Marseille