Extra Virgin Olive Oil
A Southern Hemisphere of perfection! Estate grown, pressed and bottled in Stellenbosch, the acclaimed wine and olive growing region outside of Capetown, South Africa. Year to year, this oil offers a consistent flavor profile made from a blend of fourteen olive varieties originally of Italian origin. An intensely fruity oil tastes of artichokes, green apples and almonds followed by a long, peppery finish.
Each varietal is handpicked, pressed and stored separately in stainless steel tanks. This oil is allowed to settle longer than other oils, enabling the sediment to separate naturally before it's siphoned off (without the need for a filtration system). Less sediment improves the quality of the oil and extends the shelf life.
The terroir of the region is perfect for producing high quality olive oil. The rain runs off of the rocky soil quickly, meaning no excess water ends up in the olive fruit (less water means higher anti-oxidants!). The coastal location offers consistent, cool sea breezes that slow the ripening process, giving the olives more time to develop.
Varetial:
blend of 17 italian varietals
; oleic acidity:
0.3%
Flavor Profile

This intensely fruity oil tastes of green tomatoes, artichokes, green apples and almonds, followed by a long peppery finish. Compliments pasta dishes, meats, vegetables and even desserts.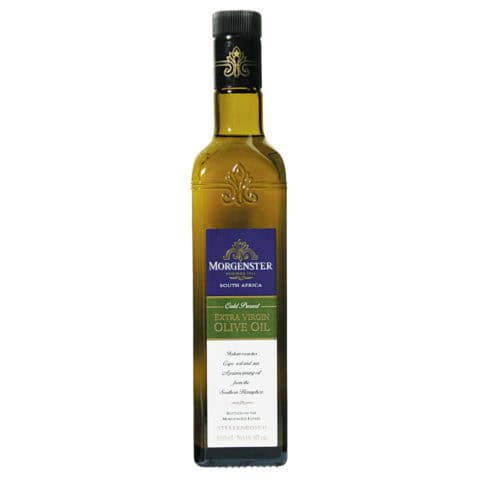 Certified: Kosher by Beth Din Kashrut, Union of Orthodox Synagogues of South Africa
| Item No. | Size | Pack | Weight | UPC |
| --- | --- | --- | --- | --- |
| MG200 | 500mL Bottle | 6/case | 14 lb | 6009601800006 |
Ingredients
17 varietals of Italian olives
2023 & 2019, 99 points, Flos Olei
2022, 2020, 2019, & 2013, Gold Medal, South African Olive Industry Awards
2018-2014, 98 Points, Flos Olei
2013, Gold, Los Angeles International Olive Awards