Natural Meski Olives with Lemon & Fennel (organic)
This plump green olive variety, known for its meaty flesh, is native to Tunisia. To preserve the integrity of the fruit in the process of debittering, instead of crushing the olives, the Mahjoubs carefully open each olive with a slight incision by hand. Once they are cured for a minimum of nine months, the olives are bottled in brine with a slice of lemon and a branch of wild fennel. As with all of the Mahjoub products, this is produced using traditional farming methods with no additives or artificial processes. This product is organic.
Harvest Season:
early Sept to Nov
Recommended Uses

After eating the olives, the remaining olive oil is perfect for dressings and marinades.

These condiments do not have preservatives. To make them last longer: keep upright, top with olive oil upon opening (can do this every use if desired), and refrigerate.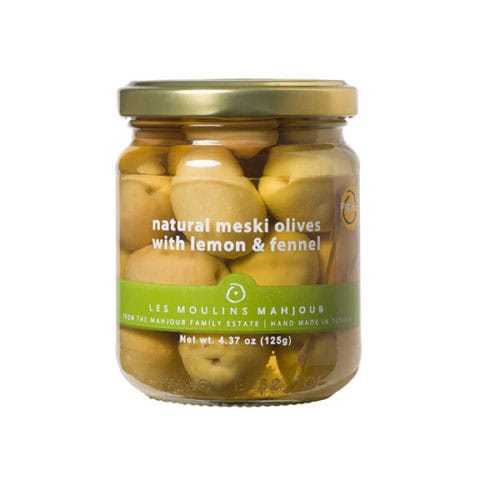 Certified: Organic
| Item No. | Size | Pack | Weight | UPC |
| --- | --- | --- | --- | --- |
| 84020 | 125g | 12/case | 10 lb | 740913001489 |
| 80310 | 4.3kg | 1/case | 17 lb | 740913001519 |
2002, 2009: SOFI Silver Outstanding Product Line