Sun-Dried Tomatoes (organic)
Dried in the hot summer months of July and August, these tomatoes are then individually layered in glass jars and covered with extra virgin olive oil. It takes 14 to 15 kilos of fresh tomatoes to make just 1 kilo of sundried tomatoes. Most other sundried tomatoes use the cheaper and less flavorful seed oil; however, the Mahjoubs' decision to use olive oil means that once the tomatoes are gone, there is still a jar of flavored oil to enjoy. As with all of the Mahjoub products, this is produced using traditional farming methods with no additives or artificial processes. This product is organic.
Harvest Season:
July and August
Recommended Uses

These tomatoes are excellent with pasta, couscous, and salads. Drizzle the remaining olive oil over grilled bread or add to a salad dressing.

These condiments do not have preservatives. To make them last longer: keep upright, top with olive oil upon opening (can do this every use if desired), and refrigerate.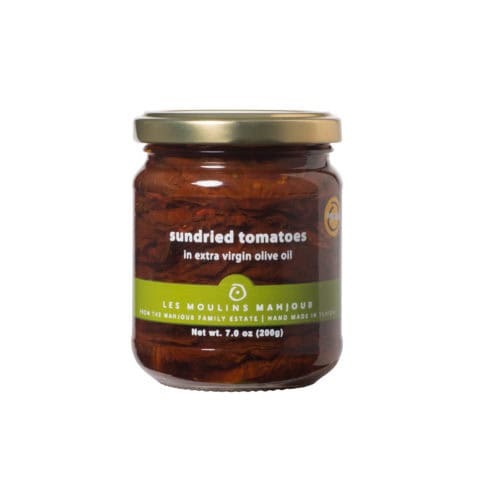 Certified: Organic
| Item No. | Size | Pack | Weight | UPC |
| --- | --- | --- | --- | --- |
| 82001 | 200g | 6/case | 5.25 lb | 740913001434 |
Ingredients
Organic sundried tomatoes, organic EVOO, salt, organic herbs